ANTIVIRUS GEL 200ML
PLN25.29
PLN41.99
ANTI-VIRUS HAND DISINFECTION PREPARATION based on ethyl alcohol. It has antibacterial, disinfecting, antifungal and antiviral properties. Thanks to the content of glycerin and hyaluronic acid, it does not irritate or dry the skin. Does not cause irritation. Eliminates bacteria without using water. Does not leave sticky hands after use.
quick and short operation time 30 seconds

operating efficiency at the level of 99.9%

recommended for frequent use
ŻEL ANTYWIRUSOWY TERAZ Z ZAWIESZKĄ
✔ SKUTECZNY
Wysokie stężenie alkoholu etylowego zabija 99,9% wirusów, bakterii, grzybów i drobnoustrojów.

Stosuj przed i po wyjściu z domu. Kiedy użyjesz go przed wyjście, utworzysz cienką warstwę bakteriobójczą, która ograniczy osiadanie bakterii.
✔ NAWILŻAJĄCY
Dzięki zawartości gliceryny i kwasu hialuronowego nie podrażnia i nie wysusza skóry.

Gliceryna gromadzi wodę i wiąże ją w naskórku, pozytywnie i długotrwale wpływa na nawilżenie skóry. Jej działanie utrzymuje się nawet do 24 godzin po aplikacji. Zwiększa elastyczność skóry, nadaje jej gładkość.

Kwas hialuronowy pełni rolę humektanta, czyli substancji nawilżającej, zatrzymującej w naskórku wodę. Dzięki temu żel działa zarówno na powierzchni skóry, tworząc na niej film, a zarazem wnikał głębiej w naskórek, który dzięki temu pozostanie nawilżony przez związanie wody w niższych warstwach, złagodzi też ewentualne podrażnienia, wspomoże gojenie i zwalczanie powstających wolnych rodników. Nawilżona skóra od razu wygląda młodziej, spłycają się nawet zmarszczki.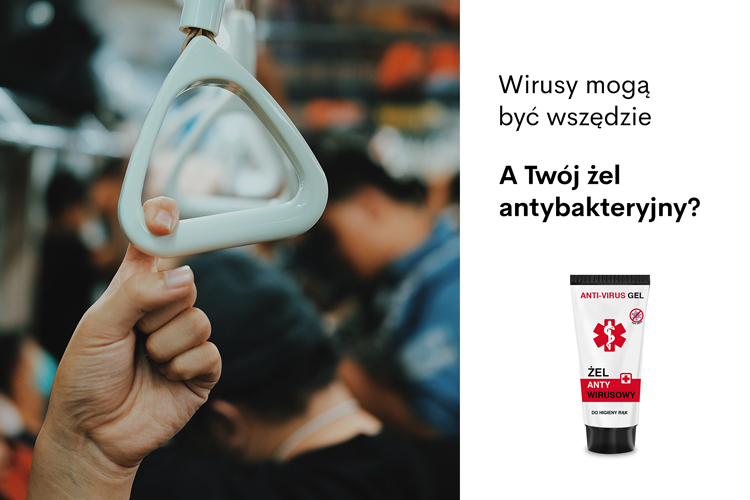 ✔ PORĘCZNY
Na tyle mały, by był zawsze przy Tobie

Możesz trzymać go w kieszeni lub torebce dzięki bezpiecznemu zamknięciu.
✔ DZIAŁA NATYCHMIASTOWO
Już 30 sekund po posmarowaniu masz zdezynfekowane dłonie.

Nie musisz używać wody, żeby pozbyć się bakterii i wirusów.

Po użyciu nie pozostawia lepkich dłoni.
Reviews (3)
What customers think about this item?
Create a Review
April 3, 2020

Dzisiaj każdy powinien go mieć

April 2, 2020

Nie rozstaje się znim :)

April 2, 2020

Dobry produkt i dobra cena, szkoda, że nie macie czegoś po środku typu 100ml